First five days in India and I've decided to come to the belly of the beast: Rajasthan; the belly-dancing, eyeliner and hoops, chaotic India from the movies.
Also known as the Pink City, Jaipur (capital city) gets its name after Maharaja Jai Singh II, a mathematician and astrologer that made sure the city was beautifully designed to the last deet.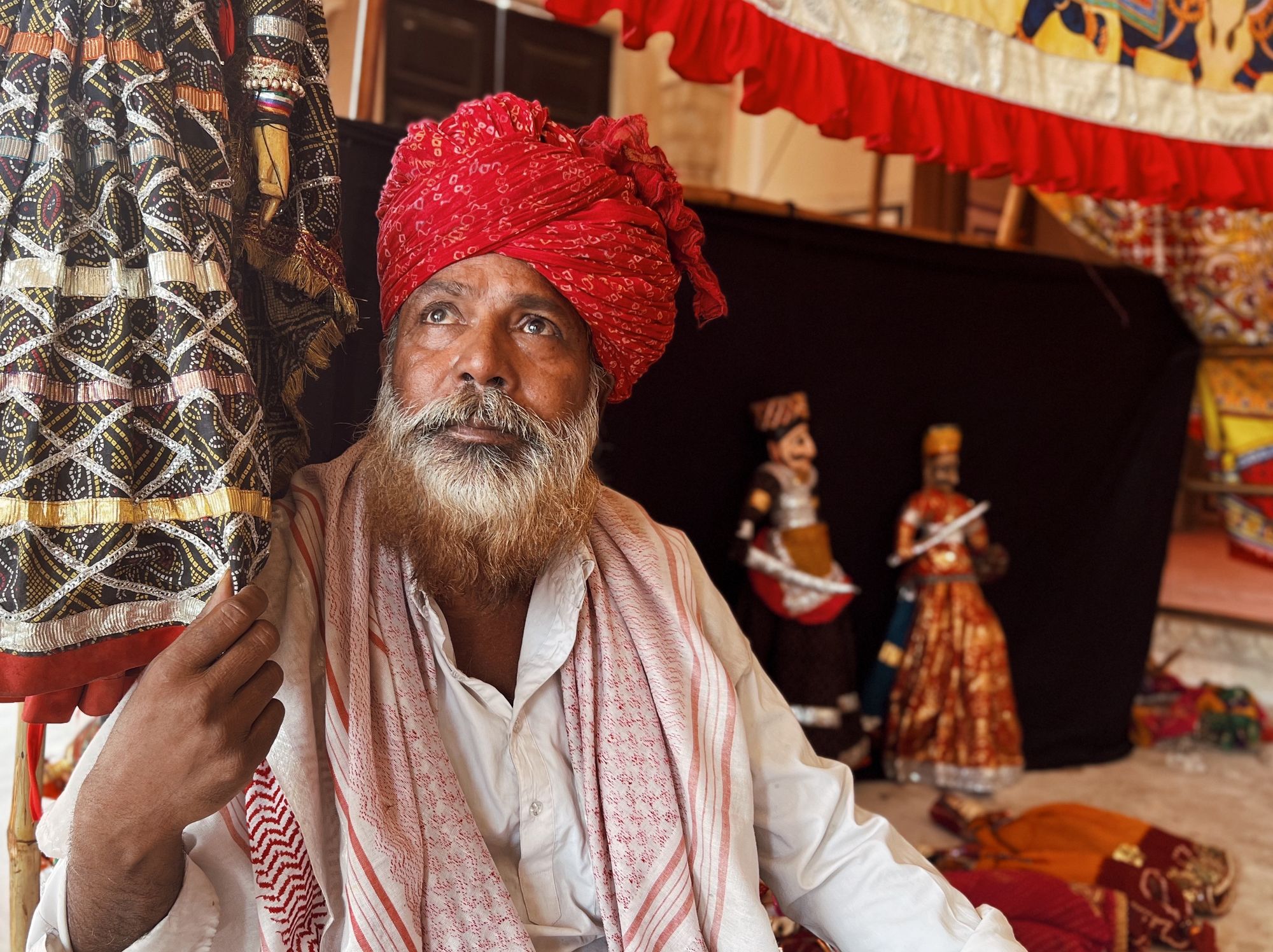 Flamboyant, dramatic, colorful, Jaipur is filled with temples, palaces and forts that make you feel like you're truly traveling back in time as you walk around and see these women in their saris and the babas with their orange robes, kissing the footsteps of temples and burning incense.
I had so much fun in Jaipur, I was planning to stay for two days but ended up extending the trip to five. Below, my finds and recos:
/ ONE  - Pink City morning:
Kill three birds with one stone: take a rickshaw (🛺) to the old city, and go to the Hawa Mahal (famous pink temple that looks like a honey comb), City Palace, and Jantar Mantar (incredible astronomy temple/museum). They are all close to each other, and worth to see your first day there. For me, it set the tone, I was like OK Jaipur I see you, you're extra as fuck and I love it.
The Hawa Mahal was so stunning, I didn't go but I saw a café across the street that if you're a photographer, you would probably get an amazing shot of the place from there.
I got a guide for the Jantar Mantar, honestly because he made me laugh and it costed 200 Rupees (around $1.40) and even though I don't like guides at all, I thought it was so worth it. If you're into astro, I would do it.
The city palace was expensive (lol expensive) to visit: 700 rupees versus 200/300 the other two.
The rest of the Pink City area is funny. On google maps it says that it's called "Bapu Bazaar". And I guess it is sorta like a bazaar, but I thought it was all overpriced generic shit. Jaipur is a textile city, so I would skip this bapu and go to a textile house.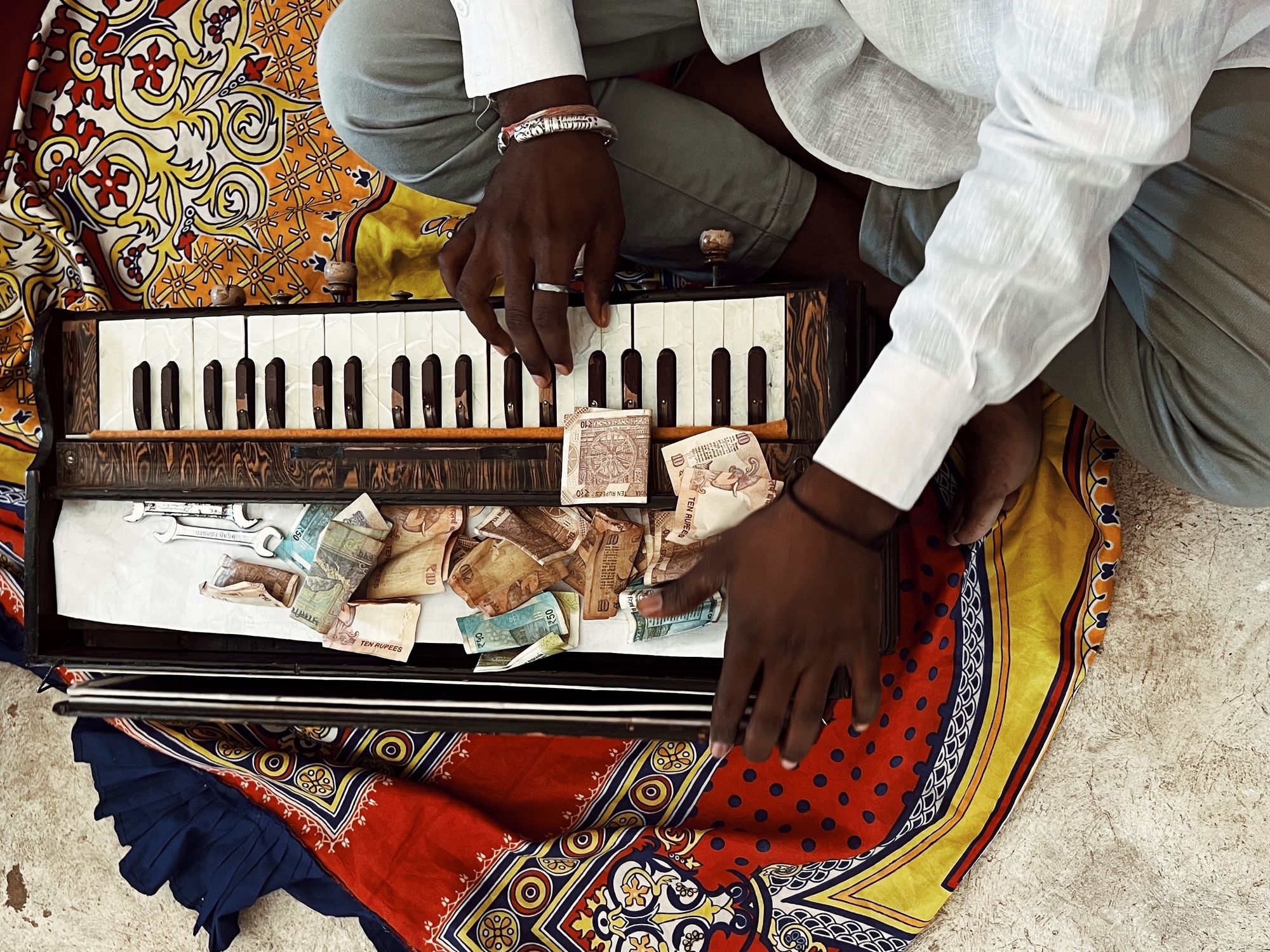 / TWO: textile house

The rickshaw driver I met on my first day became my best friend, and he took me to this textile house where I saw people mixing natural dyes, doing block printing by hand, and weaving. Beautiful, authentic place.
I went upstairs and they had every color texture and flavor of fabric you could imagine. A fucking dream. Since I realized pretty quickly that biker shorts are the worst idea around indian men, I got a dress done there. They took my measurements and I chose a fabric, and the next day they delivered the dress to my hostel.
If I wasn't running around like a pirate, I would have sent sheets, rugs etc to my house (If I had one lol). This little gem is a must for the fabric lover in Jaipur.
The textile houses are all around the water palace, you will see them. Ask a rickshaw driver to take you, I think that's the easiest way.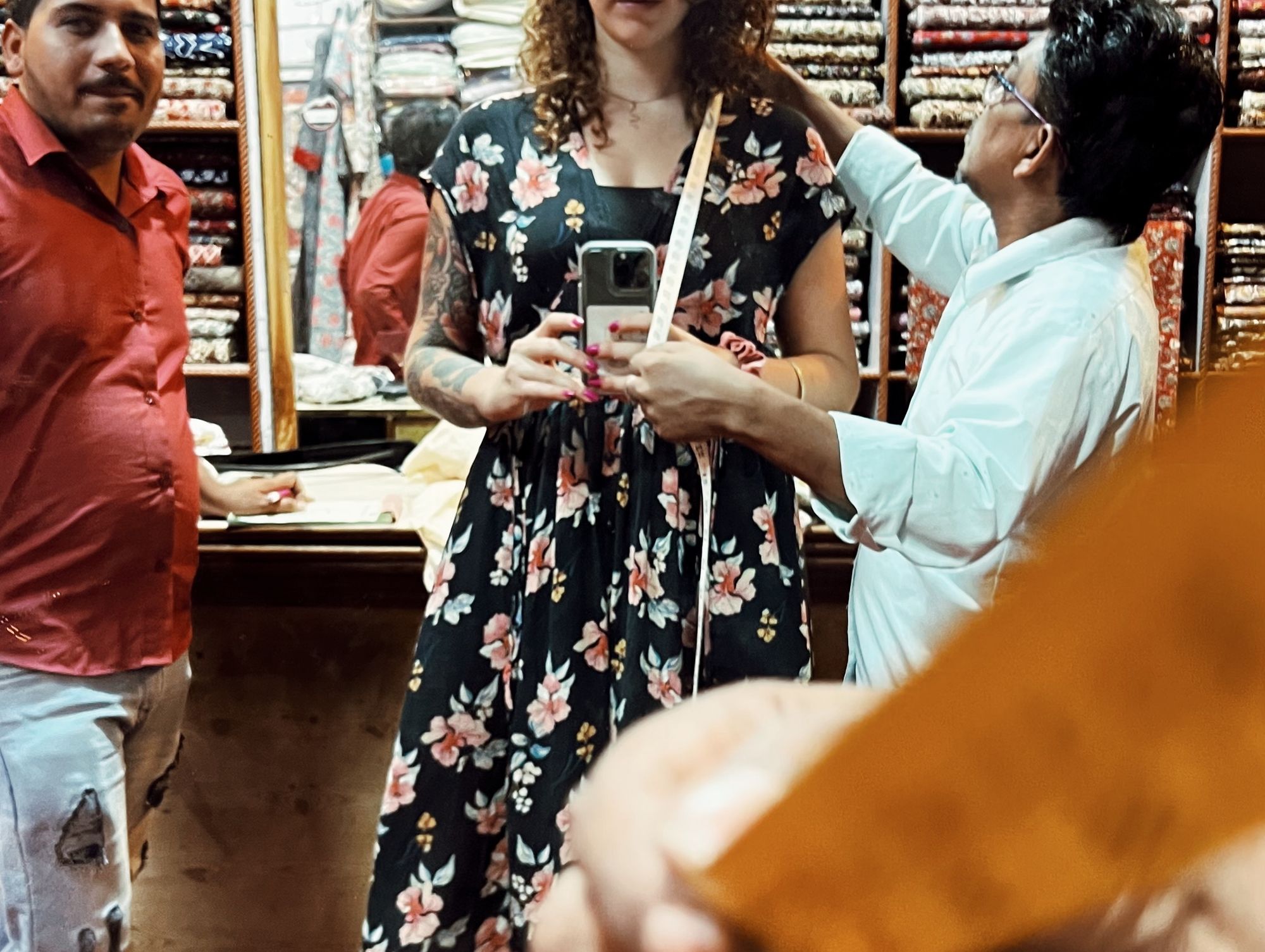 /THREE: Food @ Farmacy

If I'm going to start doing these "what to do" series, you'll realize pretty fast that I'm a sucker for overpriced, gentrified places. And I'm not proud to admit it. While I love a good little cheap family owned restaurant, I need good wifi to work, and the two don't mix.
BUT! While this farmacy place is overpriced (400 rupees vs the reg 200/250 thali), the food is absolutely amazing, and I ended up eating here every single meal in Jaipur. Incredible Rajasthan Veg Thali, this is what you need to eat every day. Oh my god, I think I stayed 5 days because of this fucking thali, no shit.

Since it's a healthy concept restaurant (or some shit lol that's how the owners would call it) the food doesn't feel too heavy, which is amazing if you're gonna be running around these temples all day. And, they slightly vary the thali every day.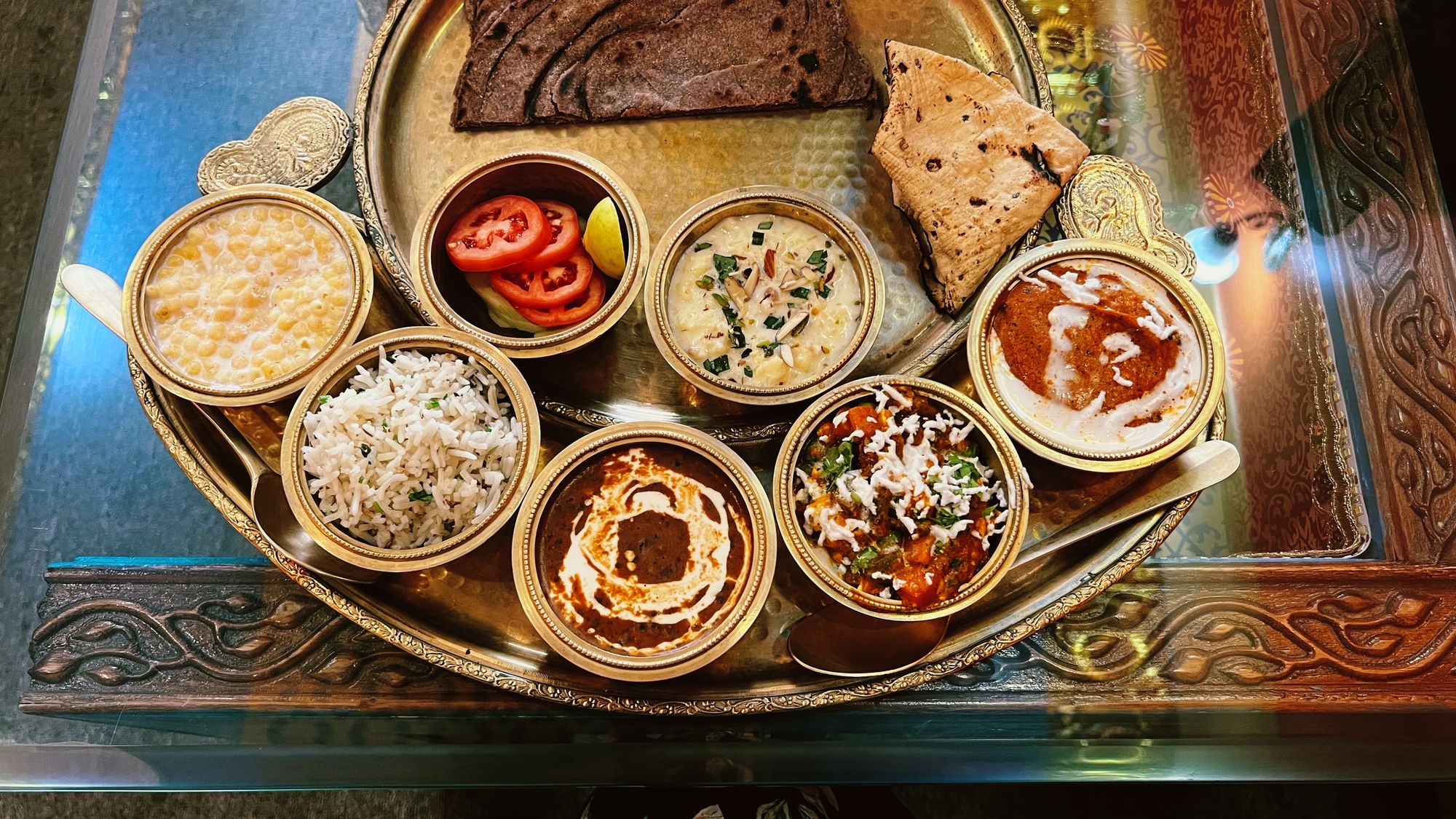 /FOUR: a real medium/psychic

Long long story. But in short, India shows you that real magic exist and if you're open enough you end up in the weirdest situations. Anyways! Ended up at this psychics house who is the "guru" of the rickshaw driver. I'm not going to write too much, since I believe these experiences are meant to be a bit introspective. But he told me shit no one knows, and everything he said was true. Everything. My first experience with a psychic, so shocking.
He gave me so much clarity on what I want to do these months in India, he told me without me saying shit that I was doubting certain things, and I should go for it. He was so specific and spookily accurate. I'm getting chills down my back writing about it.
He is in a gem store called NAME. FYI: He will try to sell you a stone, I have a funny story with mine, but that's a story for another time.
Highly recommend this – if you don't buy the rock, it's a free visit to a psychic.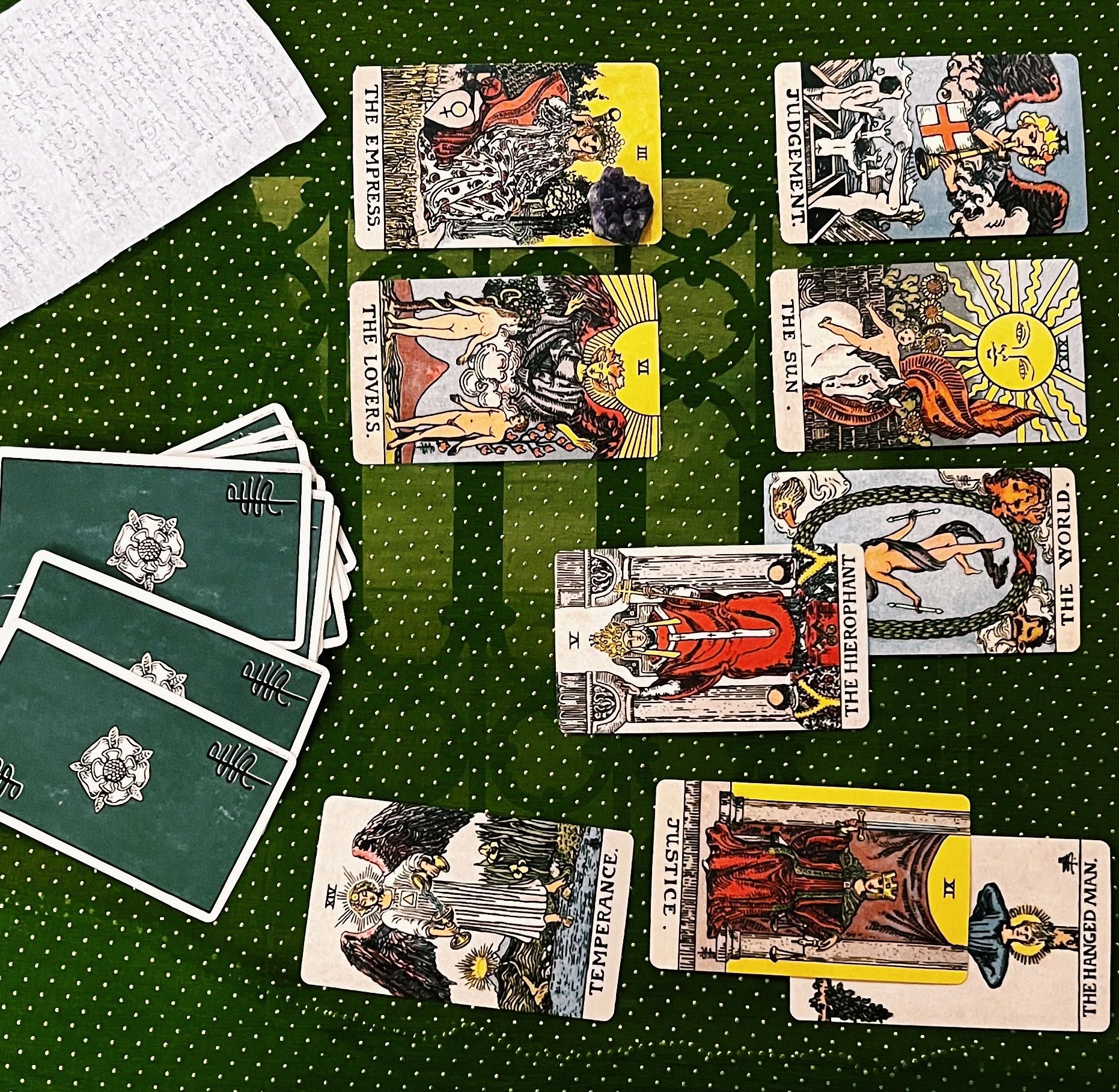 /FIVE: Amer Fort

This is one of the most beautiful things I've ever seen in my life. If you have one day in Jaipur come here. I don't want to say too much. But fuck, this is the real time-travel experience. It is a 30 min drive from the city, and it is SO hot. I think it closes around 5?  This place is so incredibly breath taking.
There's a bunch of jeeps outside trying to charge to "take you to the top" and take you to a "free temple". Don't do it, walking up the stairs is stunning. And I walked to this other "free temple" after and it's shit. Classic India.
Bunch of guides also. Not necessary I think. Up to you of course but I think you can research about the fort after if you're a freakin nerd like moi.
/SIX: Nahagart Fort

After the Amer Fort this fort feels a bit phony BUT, if you go at sunset it's a different story. The rooftop is magic, you really feel like princess Jasmin (yeah even if you're a man) walking around Arabia. I went around 6pm. Right before sunset, head to the "Sunset place" or something like that around the corner of the fort. It costs like 200 rupees (with a complimentary drink lol) to sit and see the sunset. Worth it. It was so beautiful. I went with my new friend Daniel (the driver) who is a muslim, and we listen to the Tahajjud – the night prayer – going on at the same time from above the city. Beautiful moment.
On the way back on the rickshaw, he said "if you see a leopard, don't scream". I told him to go slow because one of my biggest dreams in the world is seeing one. We saw none.
/SEVEN: water castle

Beautiful. This was a spa for the kings, they would take a boat from the Amer fort and spend some time here, like "weekend house". You can see it before or after the Amer Fort, it's a 2 minute stop, photo, leave thing.
/EIGHT: monkey temple

To be honest, I came here because I stayed 5 days. If you have 2/3 days, this is skippable. I loved it so much, it felt like an actual pilgrimage temple, full of women in saris bathing and doing their pujas (a ritual with water). BUT, I don't know if it was a one time thing, or if it's always that magical. Some photos below and you can decide for yourself. The drive was beautiful though. Desert, remote. This is the type of shit I love doing.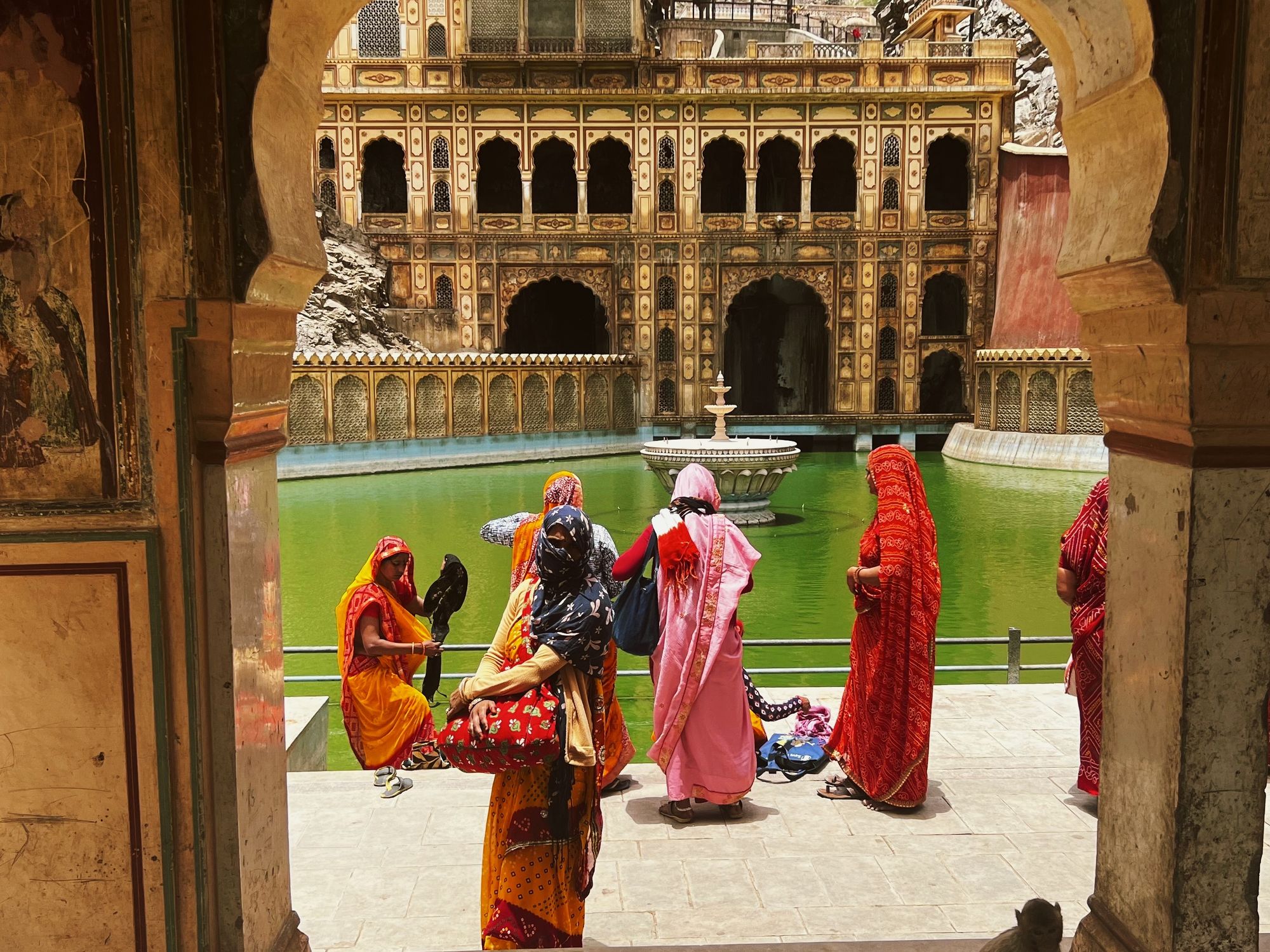 /NINE: blackout
Lol. This is so optional. Daniel took me to this party at this night club called Black Out. I recommend going here to see a full on Indian party night. Bollywood songs and music videos playing on the screen, everyone going crazy, Señor Frogs vibes. I went home around 12, it was more curiosity than anything. I must say the cocktails are fire. But, this is not a party recommendation at all, this is for the curious wanderer that wants the FULL ON bollywood experience.
photos
Last thoughts

I fell in love with Jaipur. I was expecting it to be a dusty shithole (like Delhi). But I must say I ended up adoring it. It might have helped LOTS that I met Daniel and he took me around, so I recommend either to contact me and I will send his number  (I've sent two friends his number and he was so happy to take them around the city) or to make friends with a driver, and plan your day with them.
First impression of Rajasthan: fucking love it. Hungry to see more, and excited to start this what to do series without the "5 must-do attractions" Pinterest vibes.
Stay curious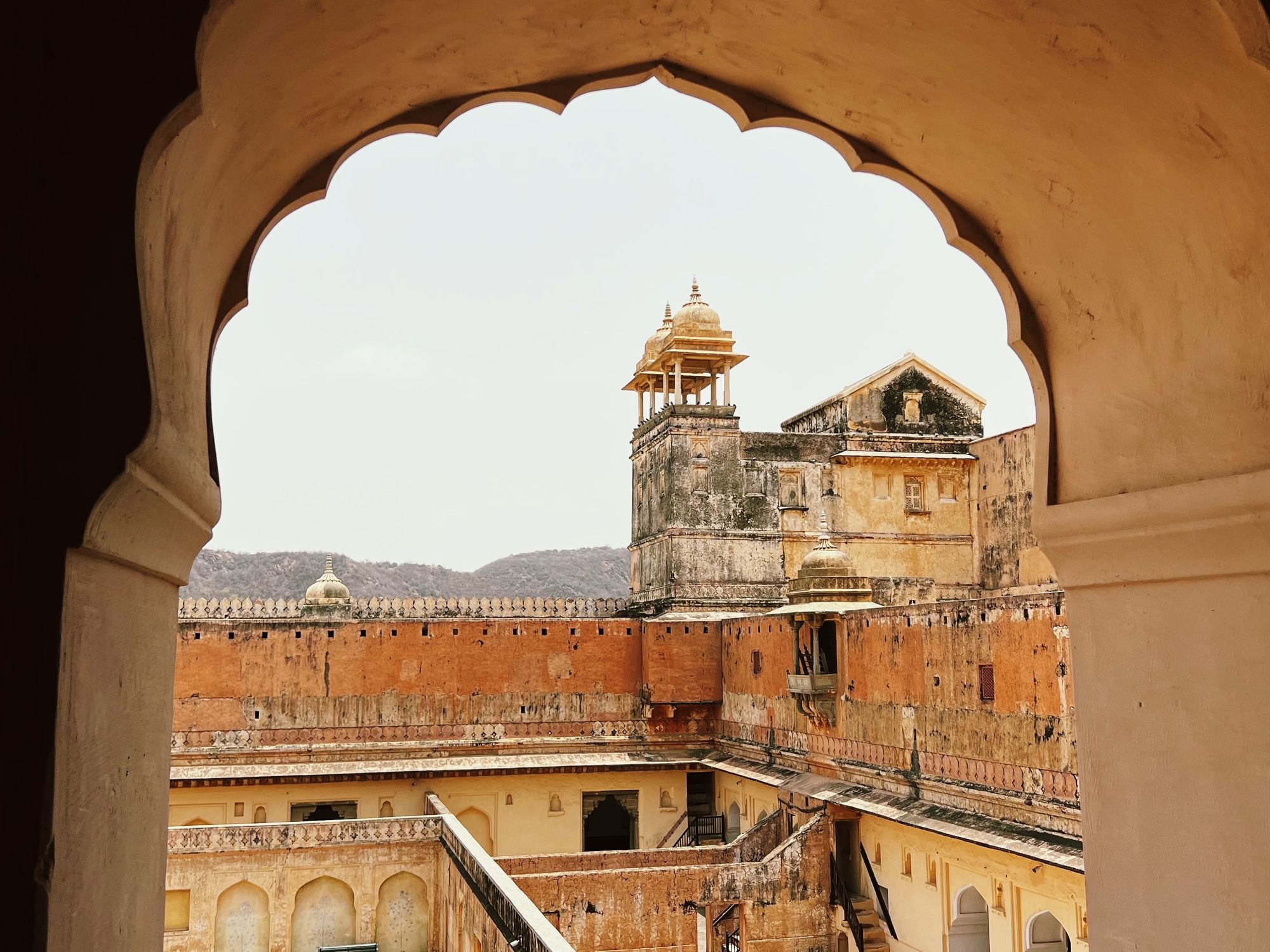 m(: