After this 8 hour bus ride through the Himalayas we arrived to this little mountain town called Pokhara. After a week here, I would describe the vibe with one word: simple.
And this is my first impression of the eastern culture: simplicity. Finding happiness in the present moment vs western mind seeking for happiness as if it was a physical place. When I get that job... when I buy that car... When I loose that weight, then I will find happiness. I will be happy. Glorifying the concept of happiness complicates life; collecting happiness as if it was a souvenir from your perfect future. You can sense the happiness in this side of the world in people's eyes if you look deep enough. Eyes of making peace with reality vs constantly trying to escape from it with future promises of a better life. Of a happier life.
This town is a dream. Little gypsy cafés and bookshops, small streets filled with family owned restaurants and businesses, surrounded by the Himalayas and a beautiful anime-like lake, Pokhara is the place where people go to before they hit the mountains, or after they come back from hiking. You can imagine the energy of the place, the air is filled with adventure hunger, and post-hike wisdom and peacefulness.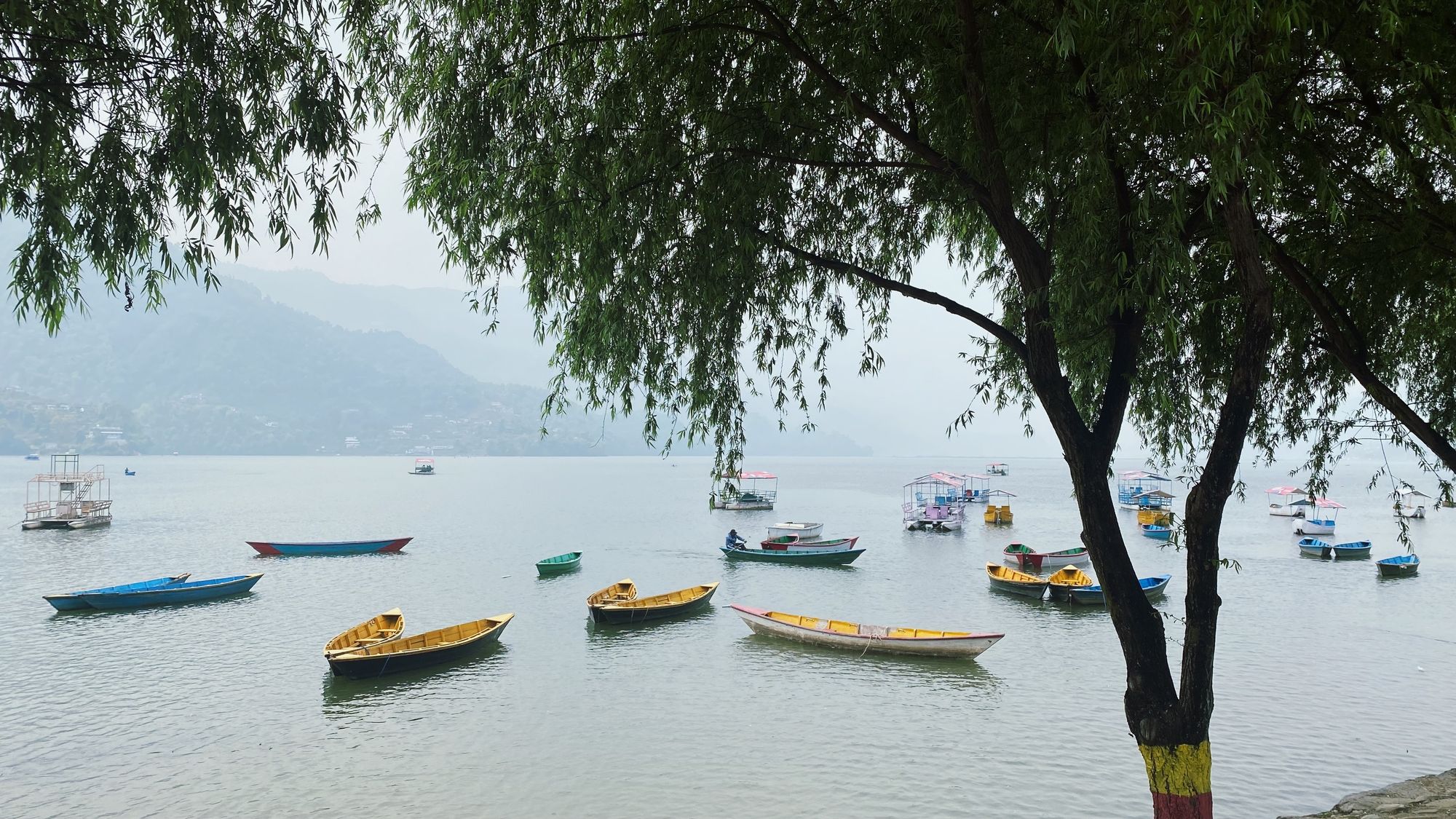 I've felt a different kind of happiness here. A new strain. We have very simple days. In fact every day is exactly the same, and we fucking love it. As nomads, routines feel so grounding from time to time. I'm realizing the body loves routines, and I want to try to find ways to incorporate them on this trip as much as possible, while leaving room for fluidity and spontaneity.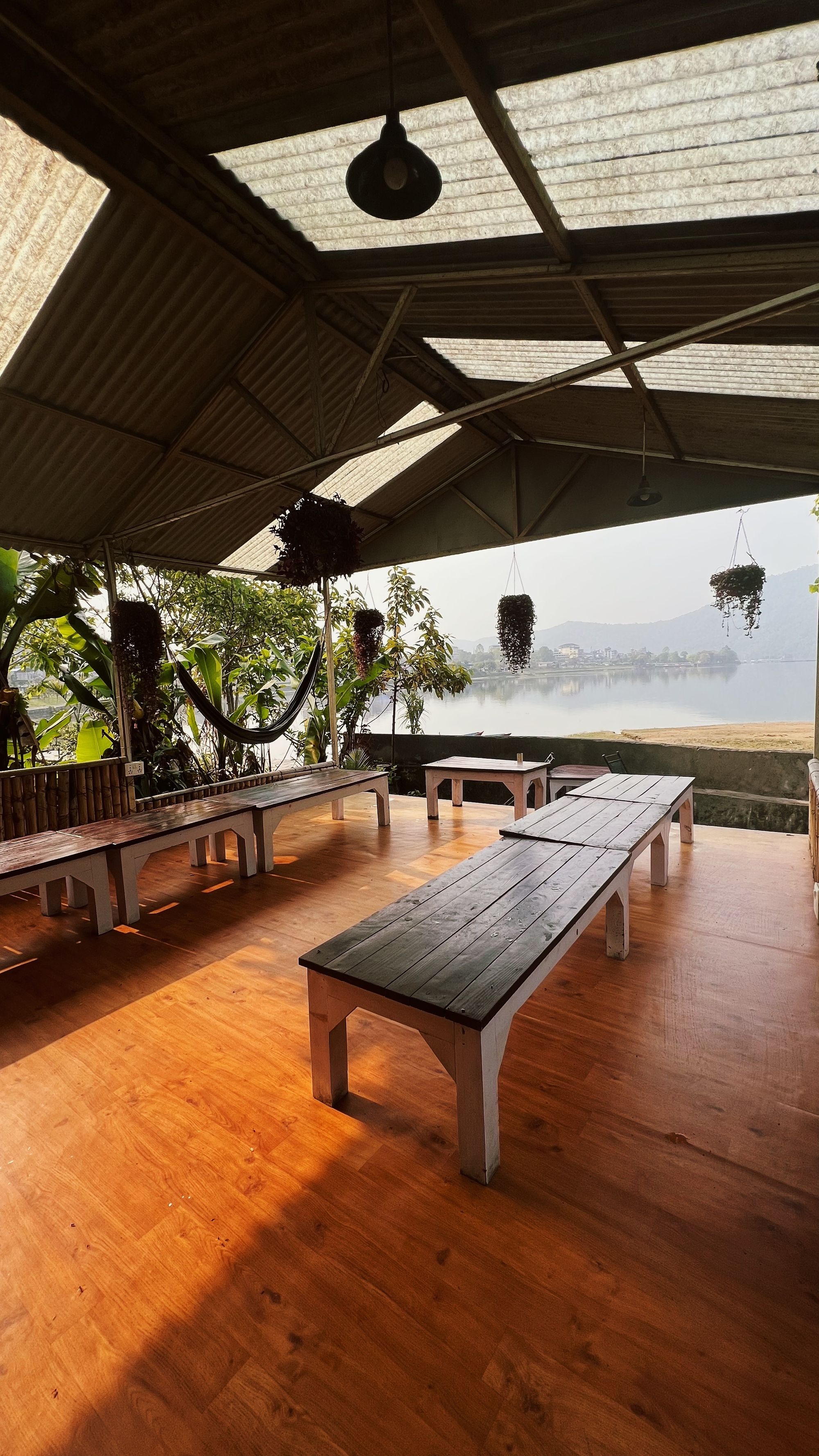 Day after day after day in Pokhara
We laugh so much at how much we love this routine. We make jokes about perfecting it all the time. But, it really showed us that simple life is happy life.
I think we've found a new element of peacefulness in repetition. Having 0 decisions to make frees up the mind to think about so much new shit. I've been super plugged out of social media and my phone in general, and grounded into this present space that feels mechanical in the best way possible. Mantra-ish I'd say.
Every day we wake up around 6am without an alarm. I walk along the lake to my 90 minute Hatha yoga practice with this incredible teacher from Kerala, India, and I meet T at a spot called Umbrella café. We try to finish as much work as we can before lunch.
We walk home, make green tea and finish work. We go to this spot called Lake Lovers View (lol) for lunch. Small, cheap, family owned, no tourists, incredible food. We always get the dal bhat (typical nepalese dish, photo below). After lunch we go to this magical ayurvedic café owned by a Japanese girl that rips her bong inside her shop. We crack up every time she takes it out. We drink tea, write, read. It normally rains around this time. This is one of my favorite parts of our days here.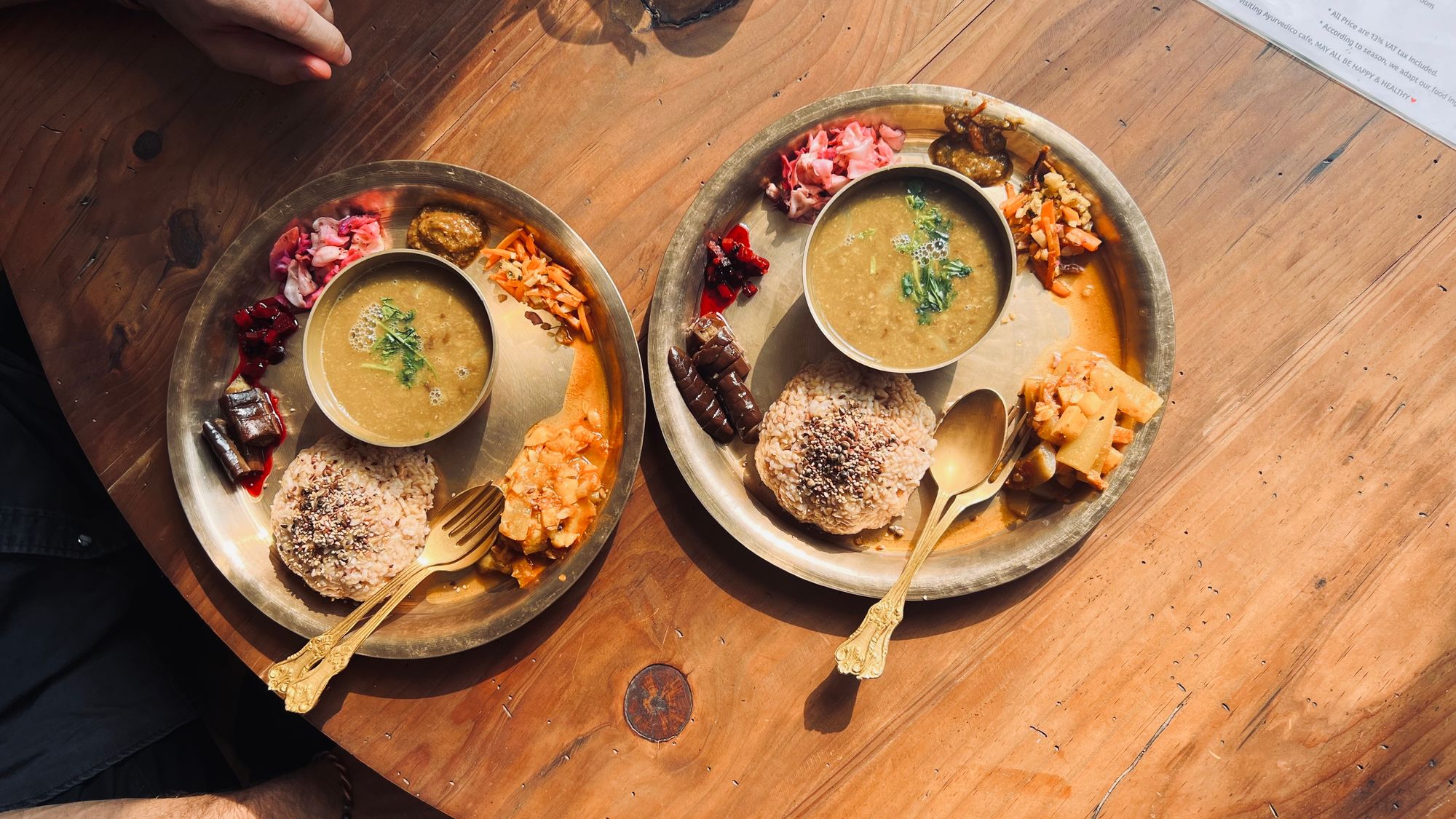 On the way home we go to this little fruit shop and get fruits for dinner. So much peanut butter. We get home, we make this salad, we spend time with each other and watch incredible movies. We go to sleep around 11 lol.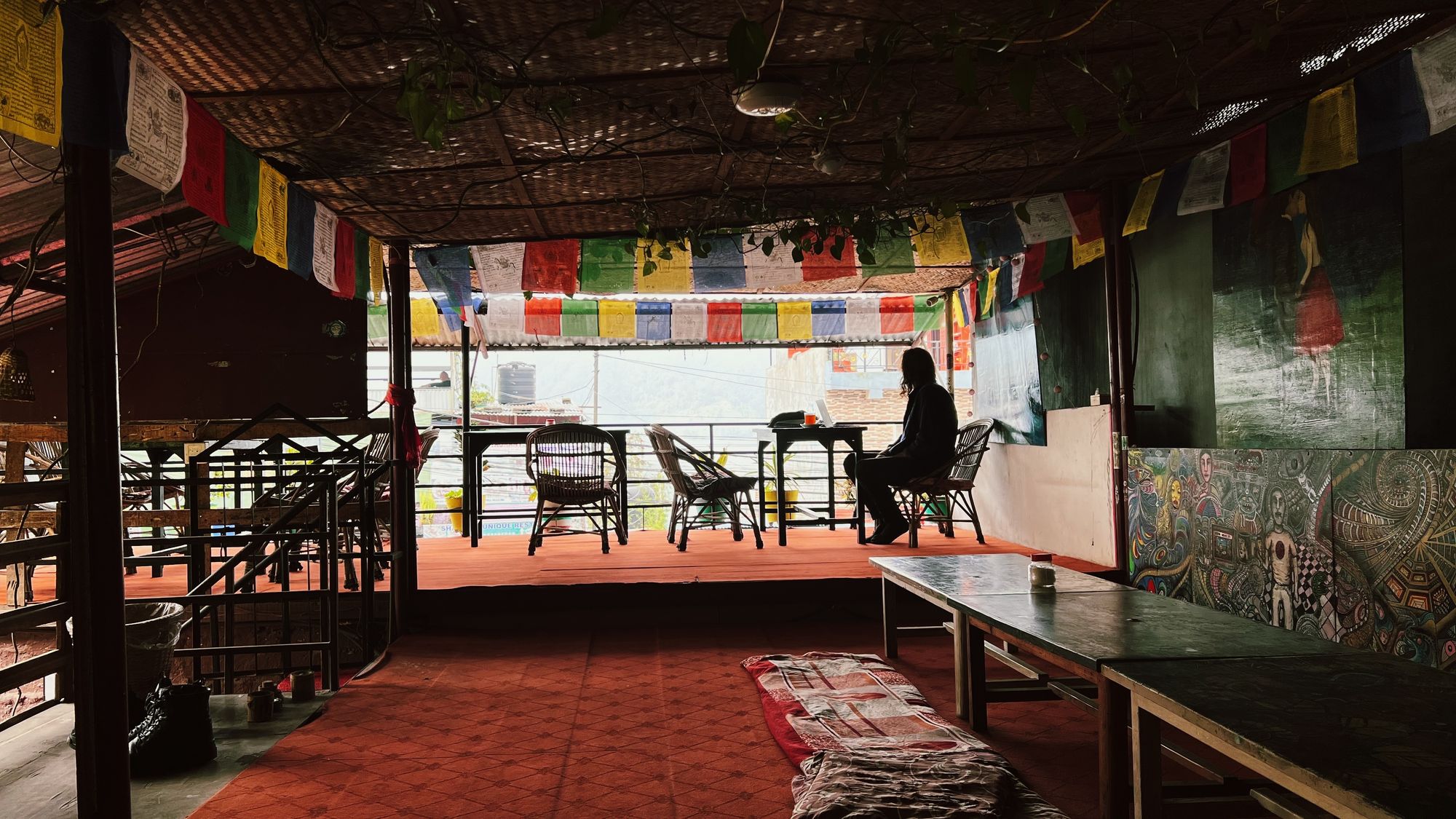 Simplicity is finding happiness collectively
Suddenly life has become very easy. We savor every single second of the day, we feel so grateful and lucky, and we express this strongly and often. We feel how everyone's craft in this town contributes to the collective happiness. The family that makes the dal bhat and their faces when we return every afternoon, the japanese lady from the café laughing, the other waitress laughing at us when we're joking around and fucking with each other, my yoga teacher's smile when I come back every morning, the sassy owner of umbrella café, the family from the fruit shop, the kids that say "namasté" to us every morning when we leave the house. All these people are happier than families that own 3 vacation houses somewhere in the mediterranean and go to New York to do shopping. People here are the real rich; they've found wealth in peaceful living.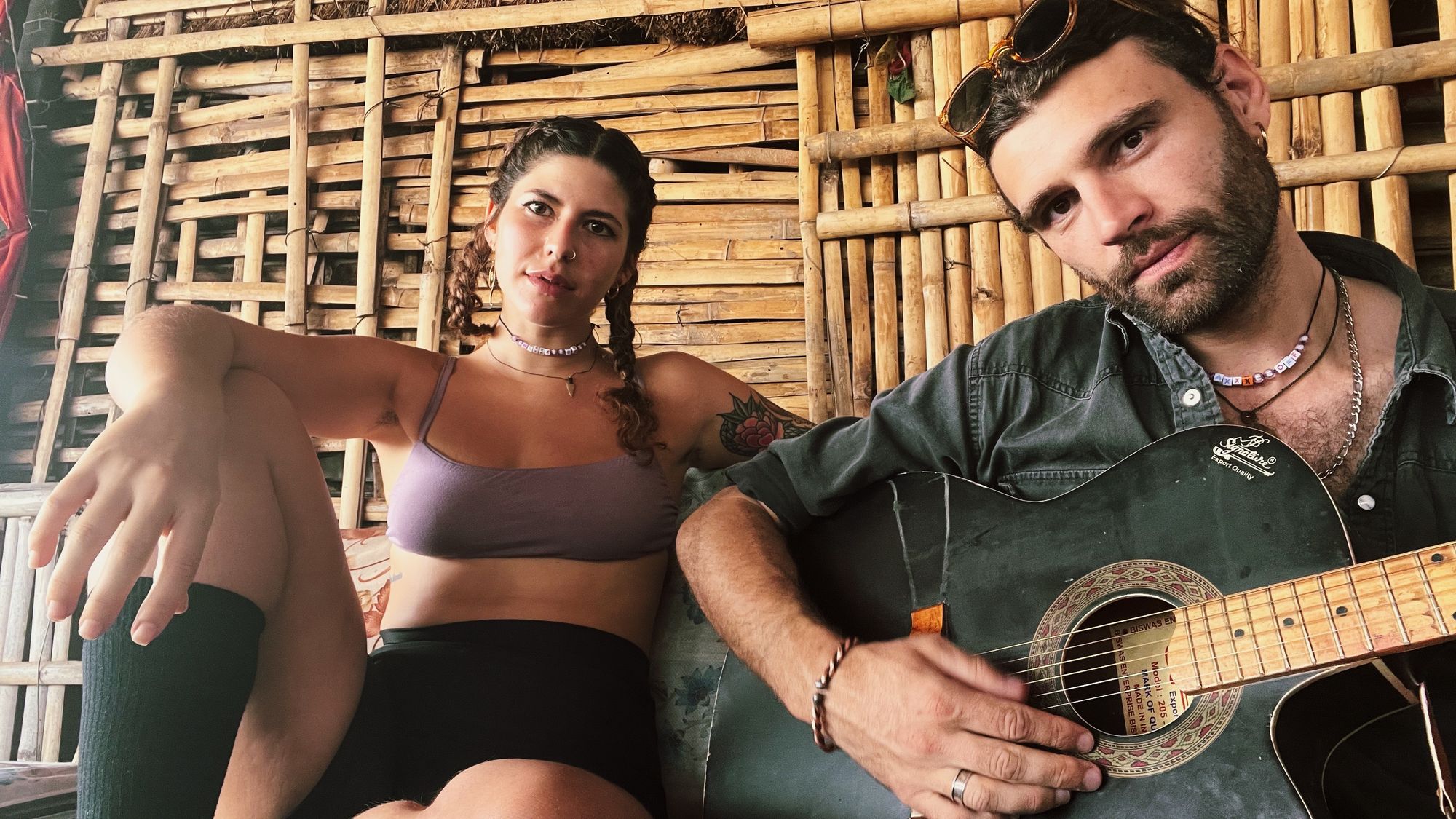 The key is here-now
I've been trying to figure out what the fuck is it about this place that makes me feel so regulated and happy so I can keep this superpower in my pocket. No doubt that being in the Himalayas charges the place with light, roof of the world type shit. Yoga errryday, beautiful beautiful conversations with one of my best friend every day, traveling happiness etc etc, of course all that helps. But, I've come to the conclusion that this place is a portal to the present moment. And I can say with every atom of my body that I've never felt so present and alive. So cliché I want to slap myself, but the key of happiness is living in the present moment. Old news. I'm here, and the only screen I'm watching is my own life's movie playing in real time and directed by: me! starring: me! written and produced by: me! location: this beautiful experience we call life.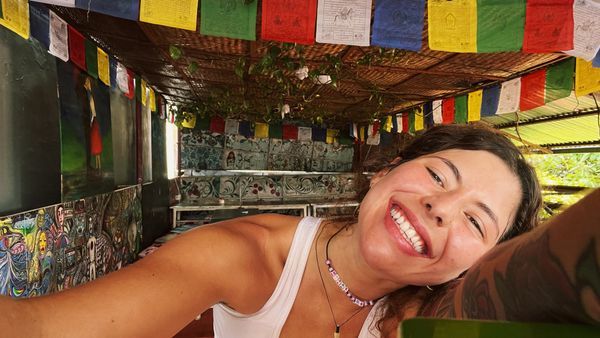 I am so excited to go out into the mountains in a few days for the next 3 weeks. We will do the Annapurna circuit, which takes like 20 days or so. Pokhara is the exact thing our souls need before this experience: a place to LAND in the present tense, and agree to stay in it.
Thank you for being a portal for the here-now Pohkara, see ya when we come back from the mountains! May our mountain wisdom contribute with your magic.
M(: